By Peter Doggers for chess.com
Hikaru Nakamura won the rapid part of the inaugural  Tata Steel Chess India tournament in Kolkata. The American grandmaster scored 1.5 on the final day, which was just enough to stay ahead of Levon Aronian who scored only 1/3.
Nakamura drew his first three games on day one, which was slightly below par for his standard. He did have a long travel getting to Kolkata though! "I was just jetlagged, tired. That doesn't mean I didn't play reasonable games, but I didn't really create much chances."
But after that, things went smoothly. He was obviously happy with the win that earned him an extra $10,000 on top of his starting fee. "I just wanted to play and I played well, and I won the event, so it's win-win."
Hikaru Nakamura. | Photo: Lennart Ootes/Tata Steel India Chess.
Nakamura had been struggling in classical chess this year, so much that he dropped to number 17 in the world rankings. Playing well was an understandable goal for him, and he reached that goal.
With a 6/9 score he confirmed his status as top seed in the rapid event (also in the blitz by the way, which takes place Tuesday and Wednesday), and finished in clear first place. Funnily enough, it was exactly his expected score.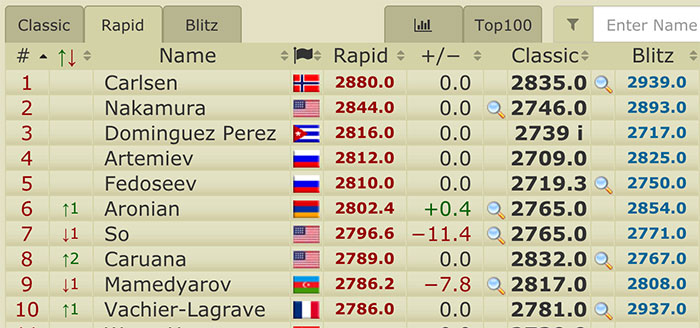 Nakamura's rapid rating didn't change over nine games. Source: 2700chess.
In the post-tournament interview in the online broadcast, the American GM made an interesting remark about the world championship match which also showed the importance he gives to chess at quicker time controls.
Nakamura: "I think I have to say I am rooting for Magnus because when I look at it, especially compared to this event, this is rapid and blitz, I think to have someone becoming the world champion when they're not as strong at rapid and blitz as well as classical, to me it would seem a bit odd to have a world champion who is not strong in all the formats. Because obviously Magnus is fabulous at blitz and rapid as well. Historically it would seem a bit off if Magnus doesn't win."
In the end, three draws on the last day (just like the first day) was in fact enough to stay ahead of Aronian, the co-leader after day two. In his two black games, the Berlin Ruy Lopez did its (drawish) job vs Vishy Anand and Sergey Karjakin. As White he drew a wild game against compatriot Wesley So.
If you're wondering about the odd move 35...Rb7 (where 35...e4 was winning!), that was played because So had touched his rook.
Naka: "It was a pretty wild game. Once I survived it was pretty good."
Video commentary Day 3
Game 1
Game 2
Game 3
Photos
Photos by Lennart Ootes: here.
Photos by Maria Emelianova: