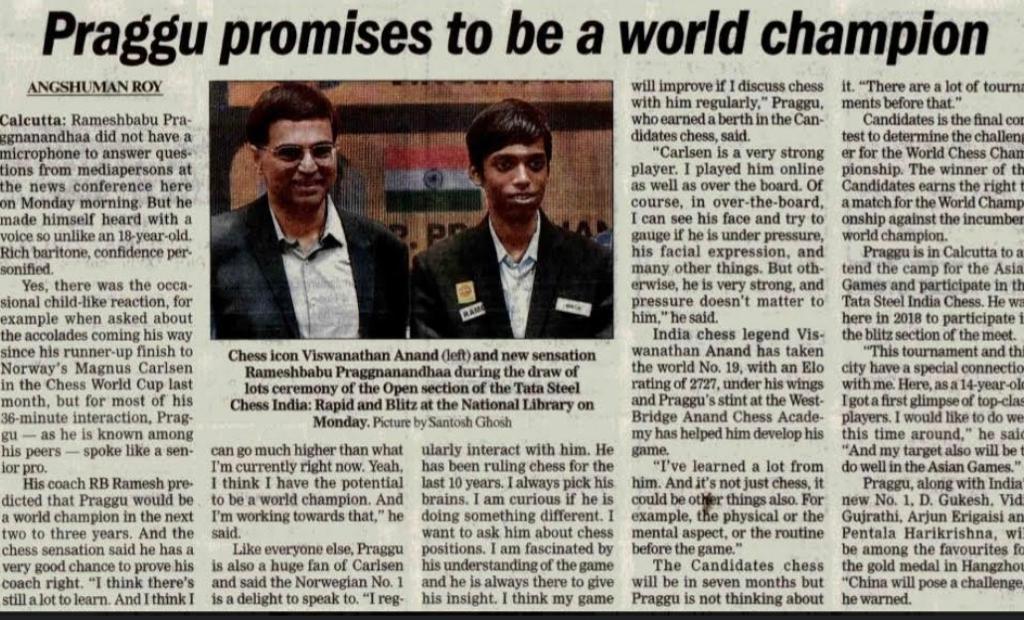 ANI: Pragg Expresses his views!
#WATCH | Kolkata: "It's very inspiring how we performed recently as well in Global Chess League... We have a lot of strong players in India...For me, it's very important that I work hard and perform well in events. For me that's the main goal," says R Praggnanandhaa, runner-up at… pic.twitter.com/hbxqyHbDGW

— ANI (@ANI) September 4, 2023
Huge fan following for young Indian Kids at Tata Steel India!
For a Monday evening, there is a frantic hive of activity at Kolkata's Bhasha Bhawan. 50 or so autograph-hungry kids — some straight from school, mothers carrying satchels in tow — are waiting at the auditorium gate with any notebook or scrap of paper they can find.
A group of eight beady-eyed security guards — fingers interlocked — have encircled some of India's top chess prodigies as they laboriously attempt to cut through the rag-tag group of hysterical children, mothers and zealous media persons.
"Oi je Pragg (That's Pragg)," shrieks one kid in Bangla into the ear of his buddy as Praggnanandhaa, D Gukesh, Vidit Gujrathi and Arjun Erigaisi are shepherded away from the melee right after the drawing of lots for the open section of the Tata Steel Chess India.
Not just footballers, Kolkata loves its chess players too.@rpragchess @DGukesh @ArjunErigaisi leaving after the drawing of lots. pic.twitter.com/QaosRBmoOt

— Amit Kamath (@jestalt) September 4, 2023
"We've been seeing this for the last few days. Kids at the venue have been asking when Pragg and Gukesh will compete. They've even brought their chess boards for these players to sign," Jeet Banerjee, the director of Gameplan, which organises the event, had told The Indian Express just a day earlier.
August has been a heady month for Indian chess — the start of a new era if you will, with Gukesh taking over from Viswanathan Anand as India no 1 after 37 years and four Indian chess players making it to the quarterfinals of the cut-throat FIDE World Cup. But one development has garnered the most attention: Pragg reaching the final of the World Cup. While doing so, he sealed a spot in the Candidates Tournament and captured the imagination of the country.
"I didn't expect this sort of reaction. Everyone recognising a chess player… I knew it would happen some day. Didn't think it would happen so soon!" Praggnanandhaa told journalists on Monday morning during a 40-minute freewheeling interaction.
"It's very good to see the fanfare. It shows that chess is growing in India. We'll have more young players coming up, more sponsors coming into the game. The game will grow even more. As a chess fan, I'm very happy to see that."
But what he says next makes the 18-year-old appear wiser beyond his teenage years.
"I try not to think about the adulation too much because it can get to your mind easily. My priority is to prepare and play well. With so many people following the sport now, it's very important for me to inspire people. Maybe more young players will come up in chess then. Maybe, someone who has the potential to be even stronger can come up," said Pragg.
Perhaps it should come as no surprise then, that he is asked about being the next Vishy Anand of India. He dismisses such premature comparisons as smoothly as he evades traps on the 64 squares.
"It's a long, long way for that. We have a lot of strong players from India. I don't take such things very seriously," he said before adding: "Somehow I don't feel that pressure (of expectations yet). Maybe in the future I will feel it. I try to avoid the pressure of others' expectations."
Pragg mania
Such has been the Pragg craze in India, that anyone who has come into his vicinity during the World Cup has found themselves in the spotlight. While Pragg was in Baku for the World Cup, the Indian Ambassador to Azerbaijan, Sridharan Madhusudhanan, had hosted him and his mother for a meal and had sent them home-cooked food to their room on occasion. Since that story went viral, the diplomat had received multiple interview requests just to ask about those slices of conversations with the boy. Photographer Maria Emelianova, who took the now-viral photos of his mother Nagalakshmi, was also requested for multiple selfies by fans at the Bhasha Bhawan on Monday.
When he returned to the country, Pragg was showered with flower petals, and way too much attention. A gaggle of mediapersons jostled for answers from him as he appeared out of the sun roof of a luxury vehicle at Chennai airport. Anand Mahindra has already promised to gift the family an EV. So far, Pragg has been feted by Prime Minister Narendra Modi, sports minister Anurag Thakur and the Chief Minister of Tamil Nadu, MK Stalin. Even cricketers like Sachin Tendulkar, R Ashwin and Yuzvendra Chahal were quick to congratulate him on social media.
The Tata Steel Chess India too has seen growing interest this year, thanks to the recent success of Indian players, the organisers said.
"For sure there is a bigger interest in the event because of what Praggnanandhaa and other Indian players did at the World Cup. Chess has been more in the public eye!" said Banerjee.
Many Indian players like Anand and Pentala Harikrishna spoke of the memories that they have of Kolkata. Anand's memory was of the reception he got from fans.
On Monday, a day before the open event of the Tata Steel started, the city gave Anand's successors a taste of that fanatical adulation too.
The Tata Steel Chess India, now the country's premier chess event, has always attracted top stars. At the inaugural event in 2018, players like Anand, Hikaru Nakamura, Levon Aronian, Wesley So and Sergey Karjakin were in attendance. This year, the field is half Indian.
Print Media :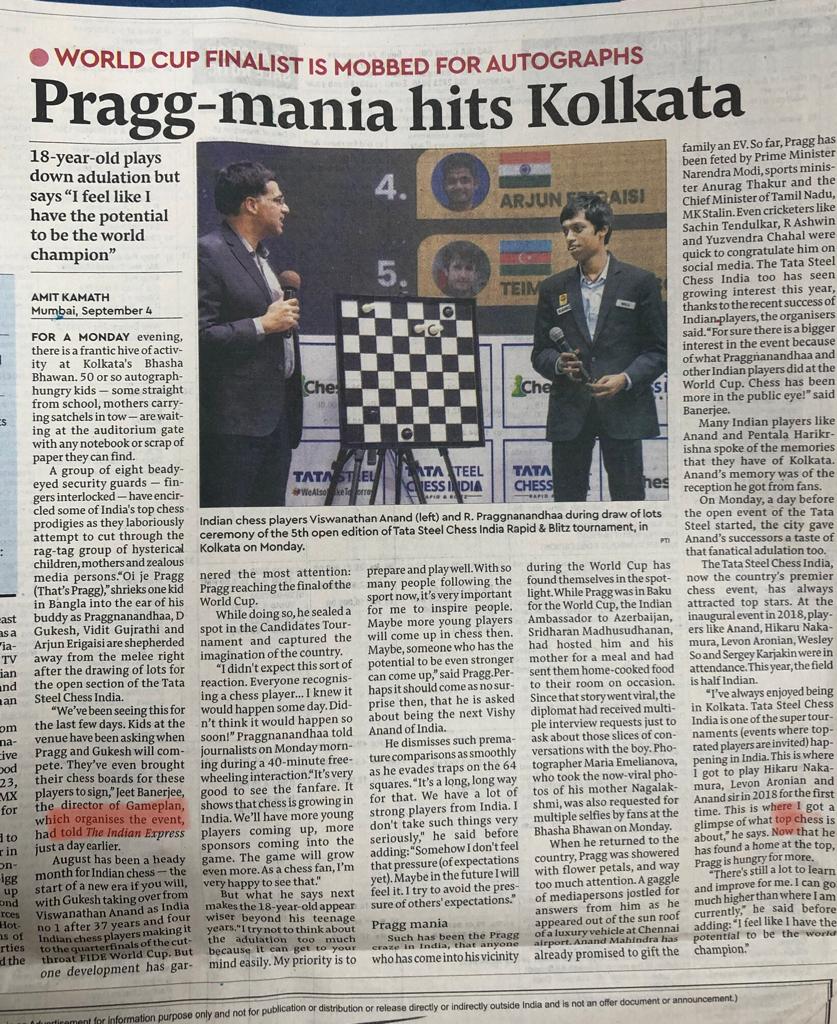 The Hindu :