by Shahid Ahmed for Chessbase India
GM Nana Dzagnidze has emerged as the sole leader after the first day of Tata Steel Chess India 2022 Women Rapid. The Georgia no.1 had a shaky start. The youngest player in the field, WIM Savitha Shri B missed a tactical opportunity against the Georgia no.1. However, the teenager overlooked her chance. She went on to beat IM Vaishali R and IM Oliwia Kiolbasa (POL). Four GMs - Koneru Humpy, Mariya Muzychuk, Anna Ushenina and Harika Dronavalli are at 2/3 each. GM Anna Muzychuk is still in search for her first victory. Vaishali scored 1.5/3 and Oliwia had a tough start as she lost all three of her games. Round 4 starts tomorrow at 12 p.m. IST. Photo: Lennart Ootes
Humpy and Harika in a four-way chase
The field of the first edition of Tata Steel Chess India 2022 Women is undoubtedly a strong one. Although it is the GMs who are at the top half after the conclusion of round 3, 14-year-old like WIM Savitha Shri B has already made her presence felt by doing a draw with GM Anna Muzychuk.
GM Nana Dzagnidze is the sole leader 3/3 | Photo: Lennart Ootes
Round 1: Anna Muzychuk - Humpy: 0-1
World no.8 GM Anna Muzychuk (UKR, 2458) eliminated World no.3 GM Koneru Humpy (2474) at the FIDE Women's Candidates Pool A Quarterfinals last month. Humpy did not forget it. Anna went all-in against Humpy. The attack certainly looks promising from a human perspective. However, computer feels otherwise.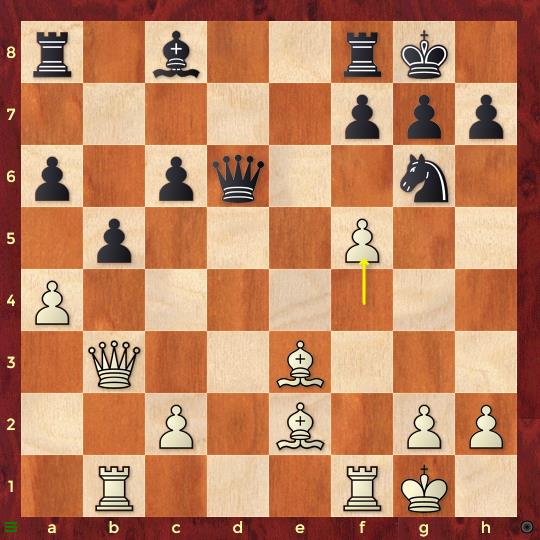 Position after 20.f5
20.f5 Ne7 21.f6 is an attacking player's instinctive way to play in this position. However, Humpy was ready with her rebuttal 21...Nd5 22.Rbd1 Ne5 23.fxg7 Re8 and Black has a decisive advantage. There is no further way for White to continue the attack.