by Shahid Ahmed for Chessbase India
GM Nana Dzagnidze continues her sole lead after the sixth round of Tata Steel Chess India 2022 Women Rapid. She drew all three of her games. GM Koneru Humpy got herself closest to ending the Georgian's unbeaten streak. However, despite her fantastic advantage in the opening, the India no.1 and World no.3 was unable to make the most out of her opportunity. She along with three more women - GM Anna Ushenina (UKR), GM Mariya Muzychuk (UKR) and IM Vaishali R are at 4/6 each. Vaishali started the day with a win over Anna Muzychuk, then she drew with GM Harika Dronavalli and went on to defeat WIM Savitha Shri B convincingly in round 6. Round 7 starts tomorrow at 12 p.m. IST. Photo: Lennart Ootes
Vaishali scores an impressive 2.5/3
It was certainly IM Vaishali R who had a great day. She scored an amazing 2.5/3 and moved up to the tied second place. Each of three rounds witnessed only two decisive games each.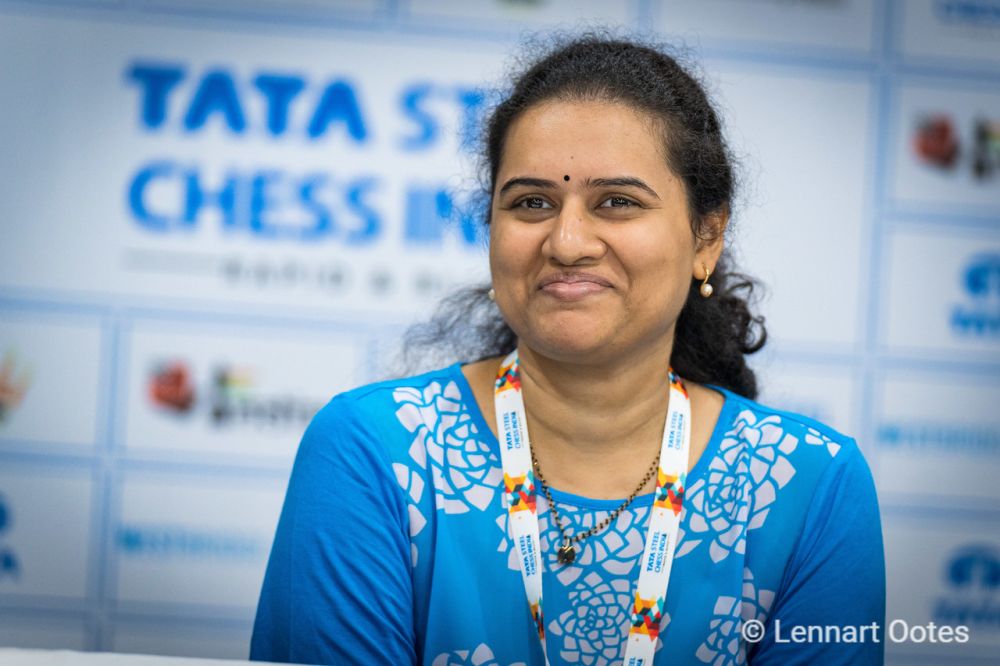 GM Koneru Humpy is one of the four women trailing the sole leader by a half point at 4/6| Photo: Lennart Ootes
IM Vaishali R scored excellent on day 2 and moved her score to 4/6 | Photo: Lennart Ootes
Round 4: Vantika - Oliwia: 0-1
WGM Vantika Agrawal (2262) had a good opportunity to turn things around against the 44th Chess Olympiad individual Gold medalist, IM Oliwia Kiolbasa (POL, 2304).
Position after 25...bxa4
Black had to defend the e6-pawn first 25...Qf7 26.axb5 Rxa1 27.Rxa1 f4 and there is enough counterplay on the kingside for White's passed pawn on b5. White took the pawn 26.Qxe6+ Kh8 27.Rd7 Qa6 28.Qxa6 Rxa6 29.Rd4. White had to bring his other rook on the seventh rank via c1 to seize her chance. 29.Rd4 created an opportunity for Black to get back in the game Nc5. White suffered an unfortunate loss in another five moves as she ran out of time.